Welcome to A.K.A. SMART ENTERPRISE, your premier destination for high-quality custom T-shirt printing in the heart of Kuala Lumpur, Malaysia. We are passionate about transforming your ideas into wearable art, offering a diverse range of printing techniques to suit every style and need.
Our Services
Silk Screen Printing: Our expertise in silk screen printing ensures precise, vibrant designs that stand the test of time. We employ this traditional method to deliver intricate details and striking visuals on your favorite tees.
Embroidery: Elevate your apparel with our impeccable embroidery services. From corporate logos to intricate designs, our embroidery adds a touch of sophistication to your garments.
Heat Press Printing: For quick turnarounds and vibrant, durable prints, our heat press printing delivers exceptional quality with fast results, perfect for those urgent orders without compromising on excellence.
Plastisol Printing: Experience the richness of colors and durability with our plastisol printing. This method provides bold, long-lasting designs that maintain their vibrancy wash after wash.
Sublimation: Dive into a world of endless possibilities with our sublimation printing. From all-over designs to vivid colors on polyester fabrics, sublimation allows for striking and unique creations.
Custom-Made Apparel: Beyond printing, we specialize in crafting custom-made apparel tailored to your specifications. Whether it's unique cuts, specific fabric choices, or custom sizes, we bring your visions to life.
Our Commitment
At A.K.A. SMART ENTERPRISE, quality and customer satisfaction are at the core of everything we do. We strive for excellence in every print, ensuring that each piece leaving our studio embodies the highest standards of craftsmanship and creativity.
Why Choose Us
Experience and Expertise: With years of experience in the industry, we bring expertise and a deep understanding of printing techniques to fulfill your diverse needs.
Dedicated Team: Our passionate team is committed to turning your concepts into reality, offering personalized assistance at every step of the process.
Quality Assurance: We use top-of-the-line materials and cutting-edge technology to guarantee exceptional results that exceed your expectations.
Join Us on this Creative Journey
Whether you're a corporate entity looking to elevate your brand or an individual seeking personalized apparel, A.K.A. SMART ENTERPRISE is here to bring your imagination to life. Join us on this creative journey and experience the artistry of custom T-shirt printing in Kuala Lumpur, Malaysia.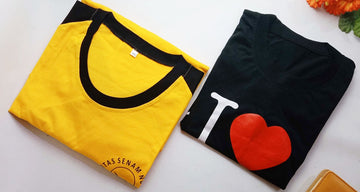 Our Promise.
Quatity

We are flexibility providing small quantity or bulk orders to cater your need.

Talk to our sales person about your quantity of orders.

Customization

We provide you the best customization options for your attire.

Get your T-Shirt printing and Apparel Customized from Scratch, when you order with us.

Delivery

Shortest lead time upon confirmation.

Prompt in our delivery.

Customer Satisfaction

Committed to our customers.

We ensure our customer will get their t-shirt or gifts printed in high quality.